News
Fr Michael's new book - Seamless Robe
To coincide with his recent Silver Jubilee, Fr Michael has published a new book of poems: "Seamless Robe." Proceeds from the sale of the books will go towards the Sacred Hearts Missions in Asia & Africa. To order a copy send €10 (overseas postage add €2) with your name and address to: Sacred Heart Presbytery, St John's Drive, Clondalkin, Dublin 22. Alternatively use the Paypal feature for Fr Mike's Bike Hike below: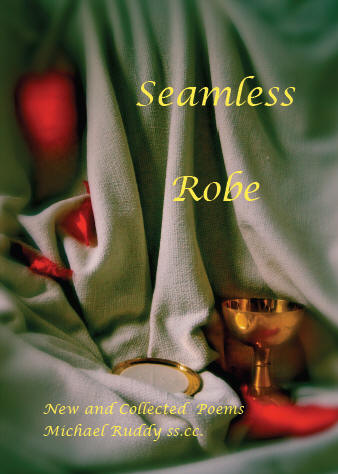 Silver Jubilee Celebrations
To view some pictures from the recent celebrations, pleas click here!
<![if !vml]>

<![endif]>

Tenth Sunday of the Year 2013

SILVER JUBILEE OF THE CHURCH OF THE SACRED HEART SRULEEN

Homily Notes of

Most Rev. Diarmuid Martin

Archbishop of Dublin

-------------------

Church of the Sacred Heart, Sruleen 9th June 2013

This day one year ago, I was a very nervous man. It was the day before the opening of the 50th International Eucharistic Congress in Dublin and I had just paid a visit to the RDS grounds in Ballsbridge where the Congress was to take place. I came away worried. Nothing seemed to be finished and there were so many things that had not even got started. It was not just that there were so many things to do; there was the deeper question of whether after so much preparation the event would be a success or not.

I will let you into a secret. The first thing I did each morning on the final days before the Congress was to reach for my cell-phone and go to the ten-day weather forecast and see what the weather was going to be like. Being responsible for an event, much of which was to take place outdoors, you can well imagine my anxiety. And to make things worse, the ten-day weather forecast kept changing, leaving me confused as well as anxious and concerned.

Looking back now, I can see that the first thing I should have been doing each morning was saying my prayers and placing much more trust in the Lord than in the meteorologists. The Congress, in fact, was to be something which went way beyond our plans and expectations.

We all get over concerned about things that we cannot really ever achieve on our own. We get concerned about the Church, about the challenge of evangelization, about reaching out to young people. We must learn to trust more in the Lord rather than in our own abilities. We must learn to trust in the Lord even when we do not always see his activity.

We come today to celebrate the Silver Jubilee of this Church which was blessed and dedicated by my predecessor Archbishop Desmond Connell in 1988. We look back over twenty five years of ministry – indeed the origins of this parish community go back even further to the 1970's. I am very happy to be here with you at this celebration. I am happy because it is in the celebration of the life of a parish that we can see in a very concrete way how the life of the Church is lived locally and in the communion of the local Churches and how the Lord is present with us.

We hear many negative things said about the Church. Sadly in the years since the opening of the Church the story of our Church has had its dark moments. An occasion like this allows us, however, to focus on the host of good things that have happened over the years. A celebration like this enables us to come to a deeper analysis of the good that has been done in and by this parish community and how goodness, care and love are the dominant driving forces of this parish and its parishioners and community.

This Church building has been a place where people came to be nourished by the word of God and to celebrate the mysteries of our redemption, not as a closed or inward-looking group, but as a community of believers in Jesus Christ committed to living and spreading the goodness and love of Jesus in this community.

We have heard something of the history of the parish. It is impressive to look at the list of those priests who ministered here; to look at how various congregations of religious sisters made a huge contribution in the area; at the work of great schools; at the sense of renewal and commitment of so many lay men and women. In the procession of symbols we have recognised the work of the Parish pastoral Council and the Finance Committee; the work of the schools and the commitment of parents; the missionary commitment within the parish; the work for justice; the discreet but constant caring of the Saint Vincent de Paul Society. I am particularly happy to learn of the renewal of youth ministry.

Alongside these clear practical examples there is something deeper that we have to remember. All those services find their roots in the way we live our faith in Jesus Christ. They find their roots in the liturgical ministry of the parish where people have been accompanied at crucial moments in their lives. I think of the joy and hope of young families as they brought their children for Baptism and ask God's blessing on the new life of the child. I think of the happiness, love and commitment celebrated at marriages. I think of the way people have been comforted and accompanied when death struck a dear one. I think of the reconciliation that has been wrought, in the sacrament of penance, to those whose lives had drifted in the wrong direction. I think of the celebration of the Eucharist, at the great events of the Church's year and in the daily prayer of those who come for spiritual nourishment. I think of the many people who quietly called in to this Church to say a private prayer at a moment of joy or at a moment of distress.

Far too often in our day we are trapped in the many things that we have to do and in the emptiness of much of the culture that surrounds us. The Church has the mission to call people to look at and reflect on the deeper questions of life and where our lives find meaning and hope. The practical examples of community and care that we celebrate find their roots in the message of Jesus Christ as a message of love that has been preached in this building and has then been put into action in the life of the community.

As we look back at the past twenty five years we can say that this community of Sruleen would be a much weaker community had this community of Christian believers not been there and active and caring. We give thanks to God for what has been achieved and we recommend to his mercy those who have passed on form this life.

This is a Church dedicated to the Sacred Heart. This reflects the charism of the Sacred Heart Fathers and Sisters who have ministered here over the years. That title is however something which brings us back to what is central in the mission of the Church. One of the great temptations of all of us is that we create an idea of God which suits our own ideas or our own state of mind rather than the God revealed in Jesus Christ.

Our celebration of the Sacred Heart brings us back to something very fundamental about the God that is revealed in Jesus Christ: our God is a God of compassion and care, a God who is rich in mercy. The Sacred Heart is an image of God's love and how that love irradiates into our lives and into our world.

The Gospels are full of stories of how Jesus mercy goes way beyond our expectations. God's mercy is generous. We tend to put limits on that mercy and somehow to limit God's mercy to categories of our own regarding who deserves mercy and forgiveness and to whom Jesus should show his generosity. At times we can be like the figure of the brother of the prodigal who rejected and even resented God being generous and merciful.

We have to learn to trust in God's mercy. God's mercy is without limits in our human sense. Our trust in God's mercy must become free from those human factors which hinder us from recognising that Gods' mercy reaches out to all and that that means his mercy reaches out to me and that he wants to come into my life, not to judge me and condemn me, but to free us from entrapment in evil and hopelessness.

The Gospel reading we have heard just now tells us something about how we, the community of the believers of Jesus Christ, should bring the message of God's caring mercy to the world around us. In the Gospel two processions meet unplanned; the procession of those who gather around Jesus to hear his words and the sad funeral procession of the child of a woman who is a widow.

Jesus immediately notices the grief of the women and Jesus is moved. He brings a message of life to the woman and her daughter, a word which overcomes doubt and grief and even death itself. This encounter is a sign of what the resurrection means.

Jesus carries out a life-giving gesture. He does it, however, in a totally non-demonstrative way. He raises the Child by a single command. There are no long formulas and gestures. There is no sense in which he carries out a show or a public relations exercise. He heals and he hands the child back to her mother. Through Jesus' action her grief is replaced by a renewed life and hope.

In today's society in which the church community often encounters signs of grief and hopelessness among those around us, those who are not in the procession of believers, but in suffering in the harsh procession of life. The call to the Christian community is that of being a witness to life and hope and to restore something of the hope that the men and women of our time yearn for.

The Christian believer does this never asking for anything in return. The love of God is gratuitous. The good that is done by believers witnesses solely to the fact that our God is a God of mercy and compassion and hope. My with you this morning is that after these celebrations in which we look back on twenty five years of mission in this Church, from today onwards we will look forward to see how we can witness to God's love in our changing world, convinced that our future will need the message of God's love just as much and even more than we do in our time. We must learn to trust more in the Lord rather than in our own abilities. We must learn to trust in the Lord even when we do not always see his activity.

Let us face the future glorifying God by our lives.
Saint Damien Display
"Damien's recent Feast Day on the 10th May saw the blessing of a new display dedicated to Saint Damien at our Sacred Heart Church, Sruleen, Clondalkin, Dublin 22. 'In the Footsteps of Saint Damien" comprises 12 displays with accompanying prayers that traces Damien's life from Infancy to Canonization. The final display is adjacent to a first class relic of Damien that came from Molokai and was generously given to us by our Hawaiian Confreres. Please come along and reflect on the life of one of our great Sacred Hearts, and pray at his relic."

Fr. Pearse's web diary from his visit to Rome in February 2011
17th Feb 2011
..a final word from the Eternal City...with business complete we had a quick walk around this morning...Pantheon really stands out, but then again just about every building in Rome does...a prayer too at the tomb of Fra. Angelico....back on the bus to be home in time for lunch...siesta now and then a trip to the airport...thank you for being part of this little journey...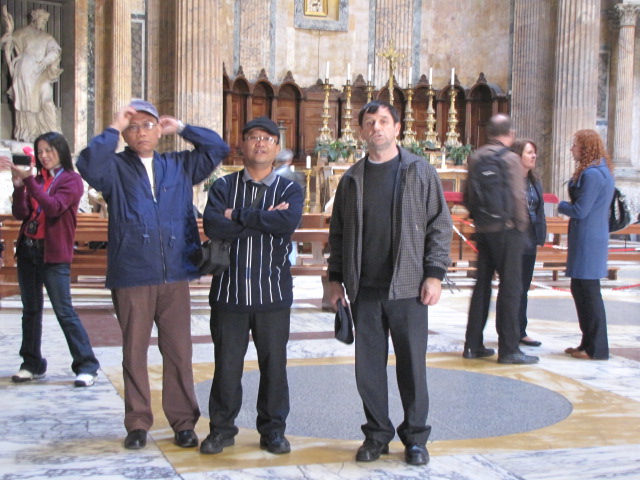 15th Feb 2011
.... last evening we went to visit our sisters community...they also have there general house here in Rome...not far from St. Peter's....unforturately Sr. Brigid is in Spain, in fact only two of the community are here, but we still got a warm welcome and enjoyed our time together, which included a prayer for Sr. Tess whose lovely photo was placed in the chapel...today our Liturgy was in Spanish....after a good breakfast it is back to work....

13th Feb 2011
...midnight I stood silently for a moment in St. Peter's Square which was beautifully lite up....we were on the way back from the football game...unfortunately our team Roma lost to Napoli...still we had a good evening and a great day with our group in Tivoli, just outside of Rome. Beautiful gardens with fountains and then a walk around the ruins of Casa Adriano....I leave you this evening with the sad news of the death of Sr. Tess Carr SS.CC in the home in Dalkey... Just recently we celebrated her 90th birthday.....May she rest in Peace.

11th Feb 2011
....after the ice cream it was back to work today...discussions about how to accompany young people, affective living out of the vows today....different cultural traditions, importance of language....around the table these days we have Spanish, French, and English....looks like I will have to learn Spanish....Sr. Mary is doing a good job with the translation...now we can look forward to our trip to Tivoli tomorrow....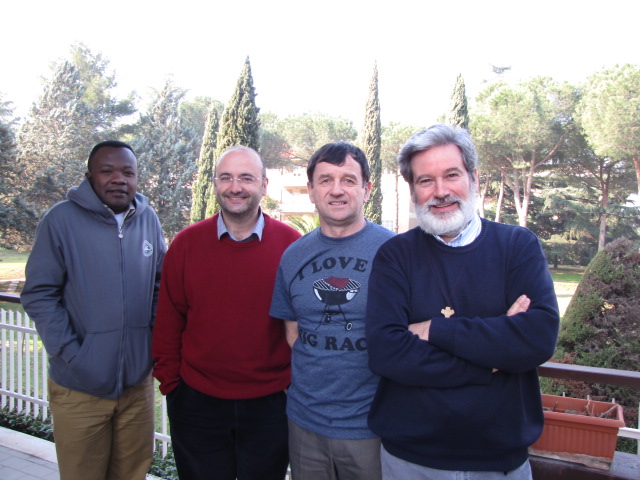 A few of us at break time...Willy from Africa, Leopoldo from Spain and Felipe who is on the General Team here in Rome...

10th Feb 2011
Said a little prayer for all in St. Peter's today....as you can see also had an ice cream with Sr. Mary surrounded by the brothers...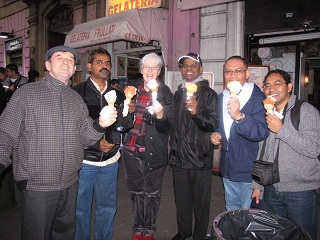 9th Feb 2011
A lovely sunny day in Rome...the day begins with Eucharist and a good breakfast for the day ahead....more stories of houses and young people as far away as Indonesia and Polynesia to Madrid and Cootehill...all with the spirit of the Hearts, and looking for ways to spread the Love of God among and with these young people....the majority of our young people are now in Africa and Asia, with a few also in Poland, Spain and Chile....we continue tomorrow but we can look forward to half day and a trip downtown to St. Peter's and maybe a stop for a Pizza Italian style....
8th Feb 2011
From Sruleen to Rome on a Sunday evening flight arriving on time to be met by one of the community . Already the house is alive with brothers from Indonesia, Polynesia, India, Spain, Poland, Africa , Columbia, Chile,Philippines, with a variety of languages...did have a chance to visit St. Paul's Cathedral before we got our meeting started today. The food is good, the welcome and hospitality first class. Our discussion today was a brief introduction of each one present, plus a few words from Fr.Javier...he presided at the Mass for Fr. Pat in Sruleen. Then the focus was on what was happening in the respective areas as regards the young people in formation around the world....